Kushboo - The Aunty
Kushboo Sundar a Muslim by birth was born Khushboo Khan on 29th September 1970. She is now married to director Sundar C. and has two
daughters
. She has been living in Chennai for the past twenty years. She also has a brother, Abdullah S. Khan. Even today Kushbhoo is a house-hold name and is well-known for her highly-rated TV show Jackpot and her serial Kalki. She was a popular film star from the 1980's to 1990's. Kushboo's first starring role was in Dharmathin Thalaivan, teaming with Rajinikanth
and Prabhu.
She reached the heights of stardom that was unparalleled in
Tamil movies
. At the peak of her popularity a temple was built for her by her fans in Madurai. Sarees, idlis, puris, and even shops had her name on them. After Tharamaththin Thalaivan, she acted in Varusham 16 and P. Vasu's Chinna Thambi. She did challenging roles and proved herself to be a versatile actress. Even today she is regarded as a fine artist in the Tamil movie Industry.
Apart from Tamil movies, she also acted in various movies in Kannada, Telugu, and Malayalam.
Kushboo's popularity and fan-following has prompted someone to build a temple dedicated to her in trichy.
Kushboo Career
She started her career in the eighties as a Bar Dancer and extra. Her first movie was Thodisi Bewafaii (1980) where she had an uncredited appearance. Later, in 1981, she had her first role in Laawaris. Since then, she has played in over 100 movies, some of them opposite popular Tamil actors like Rajinikanth, Kamal Haasan and Prabhu. She is known for her TV show Jackpot and her serials Kalki,JananiandKungumam. Apart fromTamil movies , she also acted in various movies in Kannada, Telugu, and Malayalam. Kushboo was introduced to South Indian by the Kannada actor-director Ravichandran. She has acted in many movies with him notably Ranadheera(1987), Anjada Gandu, Shanthi Kranthi and Yugapurusha.Khushboo has widely been recognized as a bold on screen protagonist. Her skimpy clothing, frequent exposures and the outrageously seductive scenes have been the centre of both popularity and controversy over the yesteryears.
Kushboo Films
* Tharmathin Thalaivan - Rajinikanth, Prabhu
* Nattukoru Nallavan - Rajinikanth, Juhichawla
* Mannan - Rajinikanth, Vijayashanthi
* Pandian - Rajinikanth
* Annamalai - Rajinikanth
* Vetri Vizha - Kamalhasan,Prabhu, Amala
* Micheal MadhanKamarajan - Kamalhassan, Urvasi, Rubini
* Singaravelan - Kamalhassan
* Engitta Modhathey - Vijayakanth, Sobana
* Karuppu Nila - Vijayakanth, Ranjitha
* Simmasanam - Vijayakanth
* Nadigan - Sathyaraj
* Brahma - Sathyaraj, Banupriya
* Rickshaw Mama - Sathyaraj, Gouthami
* Kalatta Kalyanam - Sathyaraj, Manthra
*
Kalyana
Vaibogam - Sathyaraj
*
Suyamvaram
- Sathyaraj
* Periyar - Sathyaraj
* Ponnu vittu karan - Sathyaraj
* Pandithurai - Prabhu
* Chinna Thambi - Prabhu
* Kizhakku karai - Prabhu
* Dharma Seelan - Prabhu
* Chinna Vathiyar - Prabhu
* Maravan - Prabhu
* Vegam - Prabhu
* Nalaya seithi - Prabhu
* Varusham 16 - Karthik
* Idhu Namma Boomi - Karthik
* Kilakku vasal - Karthik, Revathi
* Kathirukka Neramillai - Karthik, Sivaranjani
* Nanum Intha Oruthan - Murali
* Veerathalattu - Murali
* Nattupura Pattu - Sivakumar
* Vanaja girija - Nepolean, Ramki
* Ettupatti raasa - Nepolean
* Irattai Roja - Ramki, Urvasi
* Enkoru Magan pirappan - Ramki
* Murai maman - Jayaram
* Kolangal - Jayaram
* Manasu Rendum Pudhusu - Jayaram
* Purusha lakshanam - Jayaram
* Thali - Jayaram
* Sevagan - Arjun
* Rojave Killathe - Arjun
* Pratab - Arjun
* Nattamai - Sarathkumar, Meena
* Vedan - Sarathkumar
* Simma Rasi - Sarathkumar, Kanaga
* Vinnukkum Mannukkum - Sarathkumar, Vikram
* Muthu Kulikka vareala - vignesh
* Gopala Gopala - Pandiyarajan
* Manaivikku mariyadhai - Pandiyarajan
* Thedi vantha rasa - Ramarajan
* Pattukku nan adimai - Ramarajan, Rekha
* Nanbanin manaivi - Arunpandian
* Captain magal - Raja
* Thulli Thirinda Kalam - Karan, Arunkumar
* Jolly - Livingston, Abbas
* Varar Sandiar - Prem
* Mannava - Karan
* Magalirkaga - Ranjith
* Jathi malli - Mukesh
* June R - Surya
* Alaipayuthe - Madhavan, Aravindsamy
* Ponnu vilayara boomi - Rajkiran
* Amma Vanthachu - K. Bagyaraj
* Nattu rajakkal - Raghuman
Kushboo Conterversy
In 2005, there was a well-publicized politically motivated controversy that distorted her remarks in an interview for AIDS awareness out of context about the need for protective sex. Some political parties like PMK and Dalit Panthers championed the cause for moral policing and tormented Kushbhoo. Kushbhoo continuously made national headlines and initiated national debates on the need to stop moral policing. The nation watched the harassment to the actress until public opinion in the state overwhelmingly turned in favour of the veteran actress. Feeling public opinion and that they will not get any political milage by tarnishing Kusbhoo, the minor political parties, who had attacked her, backed out. The public was vehemently against such moral policing. Tamil Nadu has been one of the most forward states in India about women rights and rationalist thinking. Subsequently the actress became vindicated.
Kushboo Pics
Kush Pics Gallery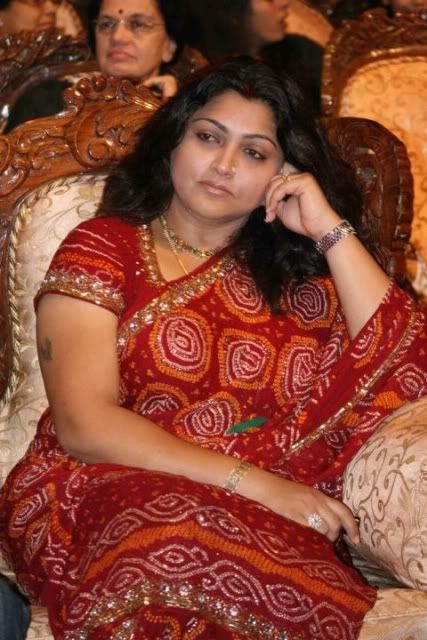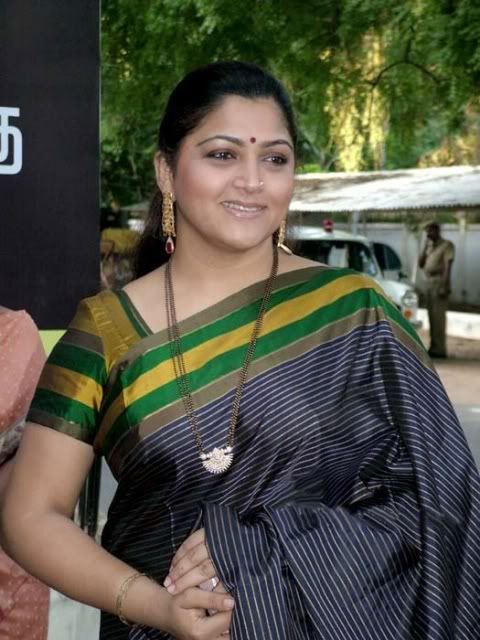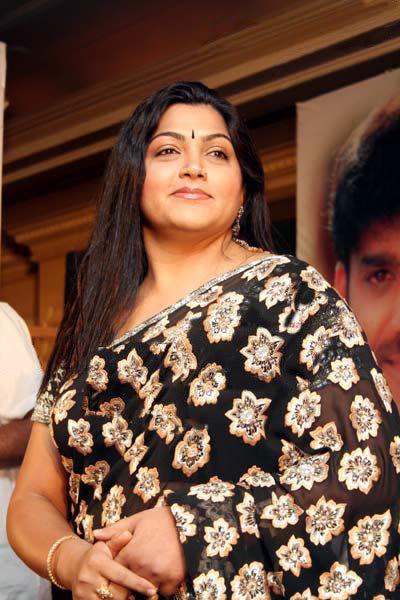 All contents posted are not uploaded by me. I found them on the net and i am sharing it with you. Hence CREDITS to original uploader